We are an Award Winning Yoga Brand!
We are absolutely thrilled to share that we won the very first Om Yoga Awards in the category of Favourite Yoga Clothing Brand.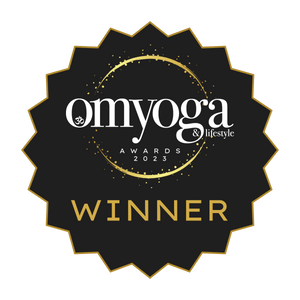 Shop yoga clothes in the UK to bring comfort and fashion into your practice
If you don't know what to wear to your yoga class or how to make your home workouts more comfortable, Blossom Yoga Wear is for you. We have a beautiful range of eco-friendly, stylish yoga clothes that won't break the bank. With our activewear, you can do the asanas while looking and feeling great.
Yoga clothing designs and fabrics
At Blossom Yoga Wear, you will find high waist
leggings
and
yoga tops
that:
• Move with you as you flow through the asanas
• Support you throughout your practice
• Deliver a flattering, sculpted fit for all, whatever your body type
• Stay in place while you move
• Keep you dry even when you break into a sweat
We use quick-drying and sustainable fabrics for our yoga wear for women. They are breathable and ensure ultimate comfort, whether you take a studio class or practice at home. Plus our high waistband and four-way stretch designs ensure our leggings provide a body-sculpting fit and extend your range of motion.
Yoga sportswear that's not just for yoga
Our yoga clothing is as perfect for yoga classes as it is for all types of exercise and active lifestyles. The 4-way stretch, squat-proof designs of our yoga pants and the breathable fabrics of our tops are also perfect for:
• Gym wear
• Pilates classes
• Running
• Cycling
• Dance classes
Not a sports or fitness fan? Our women's yoga clothes are also comfy enough for everyday loungewear. Check out our pants, hoodies and T-shirts that offer a casual appeal and provide a stylish look even at home.
Why do yoginis choose us to get yoga outfits in the UK?
Blossom Yoga Wear brings everything you need to be yoga-ready. We pride ourselves with a personal service, help with sizing and despatch most orders on the same day. Once you choose your new favourite yoga clothes online, we'll ship them with Royal Mail to ensure the fastest delivery experience. Our activewear is loved by women who value style and comfort and are looking for the right price for such a hard-to-find blend. If this sounds like what you're after, check out our affordable yoga clothes, now. Klarna payments are the cherry on top of your shopping experience with Blossom Yoga Wear. We've partnered with Klarna to enable you to buy yoga clothes and try them on now but pay for them later. Get ready for your classes while covering the cost of your purchase in 30 days or splitting it into three instalments with no interest fees in between!