• Recipes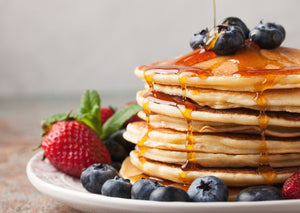 Hands up if you love Pancake day, 🙋‍♀️  and look forward to tucking into a stack of delicious pancakes! Well we do for sure, in fact we are quite partial to a pancake stack for a leisurely weekend breakfast. To celebrate this years pancake day we are sharing 2 of our favourite recipes. Comment below if you make them and let us know what you think. Vegan Pancakes Try this vegan fluffy American style pancake recipe for a perfect stack. Serve these pancakes with fresh berries, maple syrup or chocolate sauce for a really luxurious plate.Ingredients: 125g/4½oz self-raising flour 2 tbsp caster sugar...
---
• Recipes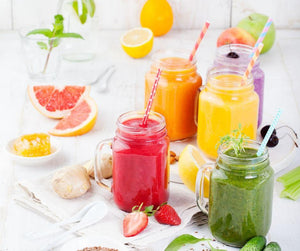 Summer is here, and we can't wait to don our most colourful yoga leggings and hit the beach with our yoga inspired totes bags. With these summer vibes in mind, we love nothing more than the tasty health boost of a good juice! Whatever nourishment your body needs, you'll find the right recipe to accompany your favourite style of yoga.     STAMINA: The best juice for Vinyasa Flow    For a dynamic style of yoga like vinyasa, you're going to want a juice that will keep you going through those relentless rounds of chaturanga! This beetroot based recipe is...
---
• Recipes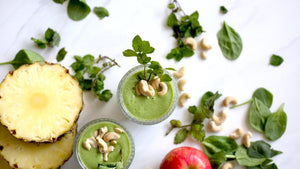 We are loving this smoothie receipe from Greenblender. It includes all our favourite things! Mint Green Tea Smoothie Recipe Ingridients 1 1/2 oz baby spinach 4 oz pineapple 1 apple - chopped 3 sprigs mint 3 tbsp cashews 1 cup unsweetened green tea 1 cup ice One of the healthiest drinks out there, green tea contains a large amount of catechins per serving. Catechins are antioxidants that have been studied for the ability to help prevent the damage of cells. Thanks to spinach, pineapple, and an apple, this smoothie also provides more than 100 percent of your daily vitamin C...
---
• Recipes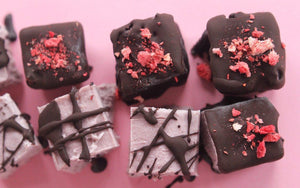 Show how much you care this Valentines day with a home baked treat for the people you love, with our recipe for these tasty little Chocolate-Covered Strawberry Cheesecake Bites  [Vegan] by One Green Planet Ingredients for 32 bites 3/4 cup raw cashews, soaked in water for at least 4 hours 2 tablespoons coconut oil 1/3 cup strawberries 3-4 tablespoons maple syrup 1 teaspoon vanilla extract 1/2 cup dark chocolate Freeze-dried strawberries to garnish (optional) Preparation Add the cashews, coconut oil, strawberries, maple syrup, and vanilla to a blender. Blend until smooth and creamy. If it's not pink enough, add a couple more...
---
• Recipes